A Quick Guide on Rental LED Display
Rental LED display is a special type used in artistic activities and stage performances. The most common places widely used are stadiums, exhibitions, theatres, press conferences, performing halls, nightclubs, singing and dancing parties, etc. Compared to traditional fixed screens, a rental LED screen has lots of advantages.
Advantages of rental LED display
Easy to install
Rental led display cabinets are known to be lighter with high precision. It ensures disassembling is quick and convenient. The technician can disassemble the cabinet quickly, thus reducing installation and disassembling time and reducing labour costs.
Ultra-thin and portable
They weigh approximately 3kg to 50kg/m2. The material of products are  characterized by its good thermal conductance and being lightweight. It is the opposite of what traditional LED screens cabinets are. The traditional LED screens cabinets were made of SPCC "iron box". This material underwent soldering, bending, spraying, and more process. It was the most preferred material because of its low cost, but it was too heavy, weighing over 60kgs/cabinet.
Reliable
Outdoor LED screens are durable and sturdy enough. It also can withstand harsh weather conditions like heavy rains. This means that an outdoor rented LED displays high-quality pictures and vices to the audience regardless of the weather. Besides, this type of screen uses modern technology to withstand severe weather.
Affordable
Rental led display is more affordable, making it ideal for stage performance organizers with a limited budget. Since the outdoor LED screens are simple to install, there will be no need to pay experts additional for installation. Besides that, its clear visibility and brightness mean there is no need to use lots of displays just to meet the audience's needs. A single rental LED display is energy efficient, clear, and not affected by weather, attracting many audiences.
For cost-efficient deals, it's vital to find a Company that will provide you with high-quality rental LEDs. LEDMAN Optoelectronic Company limited offers high quality LED screens that are easy to clean, anti-collision and waterproof safe at affordable prices.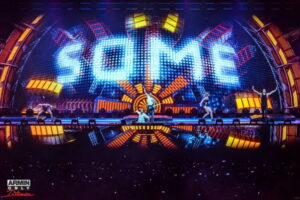 Durable
Light-emitting diodes are the main problem for LED screen service life. High temperatures affect light-emitting so bad. But, the same is not the case with rental LEDs displays. Their structural design has the cooling capability and a thermal conductance that stabilizes the temperature, thus increasing the LEDs screen service life.
Tech Terminologies used for rented LED display
Are you considering purchasing rented led displays? Before doing so, there are some technical terms that you must understand about the product. You need to understand these terms to explain them to your customers.
The screen structures can be mobile or modular entirely, depending on the type of event. A modular screen comprises various LED screen panels. This type of screen is suitable to be viewed by everyone in the venue. Conversely, the mobile LED screen is a pre-built screen display brought to an event either delivered or attached to a vehicle.
This refers to the distance between the LEDs in the screen display responsible for clarity. Pixel pitch relates to the resolution of a rental LED display. If you're considering a better-LED display solution, a rental led screen with a high resolution will work best.
IP rating refers to the protection level of rental LED screens against solid and liquid intrusions. The higher your IP rating, the more secure the LED screen is against external hazards.
This refers to the rental LEDs screen light quality measured in lumens or nits. 1nit=3.42 lumens. The higher the lumens, the brighter the screen is. For outdoor use, it's recommended that a rental LED screen of more than  4500 nits.
This refers to how far the audiences are away from the rental LED screen without finding any difficulty viewing. Though the viewing distance between LED screens differs, the pixel pitch and viewing distance always correlate. The longer the distance, the higher the pixel pitch.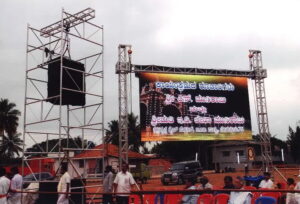 Benefits of large rental LED display
There has been an increased demand for rental LED screen in recent years. This display has proved to be effective in enhancing the audience experience. Here are the benefits of rental LEDs.
Professional level of display
When hosting a professional event, it's best to maintain everything professionally. A rental LED display can help you showcase professionalism and more useful information
Attracts audience attention
These types of LED displays grab the audience's attention, but they'll also help keep the audience engaged and entertained and deliver your message throughout the event. Besides, many audiences get disconnected when they cannot see the happenings on the stage.
As aforementioned, there are two types of rental LED display: Large LED display and mobile LED screen.
Large LED display rentals are modular, allowing customization in shape and size depending on what you find suitable for the event. Mobile LED screen rentals are ideal for outdoor activities. This rental LED display can be pre-arranged displays on trucks, and since they come already built, it takes a short time to install them.
The pricing of rental LED display on the following factors; size, resolution. Also, it takes approximately 30 minutes to 3 hours to set up rental LED screens, depending on their size. Larger LED screens take more time to install, whereas the mobile type takes less time.
Where to find a rental LED supplier
There are many rental LED display suppliers that you'll find in China. LEDMAN(https://www.ledman.com/) is the leading, and most trusted rental LED screen manufacturer in China. We offer various outdoor and indoor LED displays suitable for every occasion. Our products are custom made designed to meet clients' needs and give the best-LED display experience. Customer satisfaction is our priority, and our efforts in delivering only the best quality rental LED display(https://www.ledman.com/collection/rental-led-display) services make us the best in the LED industry. For more inquiries, contact us.