On the evening of April 12, Ledman (300162), a listed company, disclosed its 2021 annual report, showing an annual operating revenue of 1.303 billion yuan during the reporting period, up 59.17% year on year; a net profit of 47,451,500 yuan, up 115.04% year on year; 31,426,100 yuan net profit after deducting non-recurring gains and losses, up 110.06% year on year.
Ledman said that, albeit the impacts of the pandemic, frequent fluctuations in the exchange rate, surging shipping costs and shortage of containers, among other adverse factors, both revenue and profit metrics reached a record high. In addition to revenue and profit growth, operating cash flow improved substantially, as evidenced by the 511.03% year-on-year growth of the net operating cash flow.
 According to the annual report, Ledman also witnessed its gross margin grow significantly in 2021, up 2.42% year on year. Contributors to the increase included sustained scale effect brought about by the high growth of the company, efficient impetus injected by process optimization and technological upgrading, active efforts for cost decreasing and benefit increasing, and enhanced proportion of high margin products.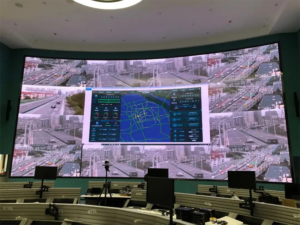 Among the many products, the COB-based MicroLED UHD display products have grown rapidly out of the incubation period into the main profitable products of the company. In 2021, Ledman saw its COB-based MicroLED UHD display business reap a total revenue of 408 million yuan, up 86.81% year on year. Domestic display business revenue reached 358 million yuan, up 93.64% year on year, and international display business grew 48.96% from the same period last year.
Currently, the COB-based MicroLED UHD product matrix consists mainly of special display (LED COB), commercial display (LEDHUB) and in-home (LEDPLAY), a mark that a comprehensive ecological distribution of application scenarios has been put in place. 
In the field of in-home display, Ledman released the 110-inch / 138-inch Ledman LEDPLAY giant-screen series in 2021. The 163-inch product is about to be rolled out, as part of the effort to extend the reach of MicroLED to the consumer-level in-home display. As market exploitation deepens, in-home display is showing the potential to develop into an important source of revenues for the company in the future.
In the field of commercial display, Ledman's conference-geared all-in-one product, LEDHUB intelligent conference system saw its operating revenue increase by 146.53% year-on-year in 2021, showing the momentum to take a share of the 100-billion conference display market in the future.
In 2021, Ledman reaped a total revenue of 562 million yuan in the domestic market, up 95.20% year on year, and a total revenue of 742 million yuan in the international market, up 39.66% year on year. The domestic market sales rose from 274 million yuan in 2019 to 562 million yuan in 2021, doubling in two years. Proportion of the domestic sales revenue increased rapidly from 28% in 2019 to 43% in 2021, becoming the main source of the company's revenue.
Ledman said that, apart from close partnership with more than 140 strategic customers, marketing channels, and city partners in the domestic market, four new exhibition halls have been set up in Wuhan, Chengdu, Xi'an and Jinan to boost experiential marketing, resulting in significant improvement in coverage of the company in east China, south China, central China and northwest China, and rapid growth of domestic revenue of the company.