Introduction
Screen displays have become the norm in today's society, with people and companies advertising their business, promotions, concerts, church services, stage events, etc. A big LED screen is a flat panel display that uses an array of pixels to produce a video display. Optimal quality big LED screens are made of sturdy materials that assure durability and consistent performance.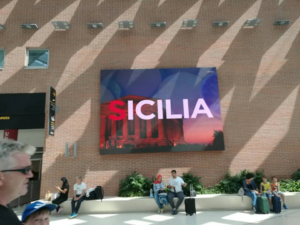 Features of a big LED screen
Protection
The Big LED screen has a new, soft mask design and material mainly for the utmost protection of the LED lamp and other injuries. The LED screens also have good waterproof effects to affect transmission on a rainy day.
Simple and convenient to use.
The design should meet the requirements of hoisting and stacking installation and various applications and occasions. This is because the rear support frame is adjustable and can be folded.
 Display
The bigger the screen display, the more attractive it becomes. The mask design ensures the emitted light has zero reflection, which gives bright displays. The rear support frame has an adjustable angle that adjusts the screen's viewing angle to achieve the best display effect.
 High-efficiency
A big LED screen has an efficient transmission system that reduces the signal delay caused by the long transmission distance. If there is a problem, the display panel has double backup function of power supply and sending card, which does not affect the normal use of the screen .5.  Remote control
Most of the display information in LED screens is controlled by a remote network. The screen information is also easily changed by operations of a mouse click from the control system.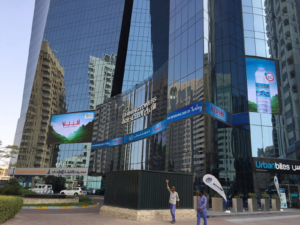 Why select a big LED screen 
It is very worthwhile having a bigLED screen depending on your type of business or application. Some of the benefits include;
Flexibility
No matter thedisplay you want to have, either rectangular or square, flat or curved, Ledman Optoelectronic Co., Ltdwill help you quickly achieve your customizations. Big LED screens are also relatively lightweight and have good heat dissipation.
Indoor and outdoor applications
Big LED displays can be waterproof, dust-proof anti-corrosive, and tolerate harsh weather conditions. This advantage makes them good for outdoor media advertising solutions on billboards and outdoor events.
 Seamless connection
BigLED screens have higher brightness and modular size, which is an ideal choice for seamless connection and lesser video glitches.
 Picture quality
Visual quality is one of the best benefits of a big LED screen. They can display a stunning visual output for your direct-view audience with naturally realistic picture quality.
 High return on investment
A quality LED display screen has an approximately 100,000 hours long lifespan (ensuring the target audience is reached) and goes for a friendly price.
Conclusion
Ledman had a variety of LED display production lines, suitable for a variety of scene applications, and can be customized for customers according to business needs. We had more than 18 years of LED display manufacturing experience, excellent quality, excellent display effect and beautiful appearance design.Please find out more details on our product page.