During October 25-28, the 19th China Public Security Expo (CPSE) was held in Shenzhen. The authoritative industry exhibition with global clout attracted thousands of well-known companies in the field of security, exhibiting thousands of digital and intelligent products and technologies from home and abroad.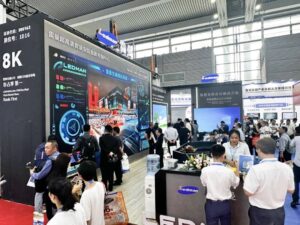 Ledman captivated the Expo with 8K Micro LED UHD energy-saving cold screen and 138-inch Interactive Conference AIO, which offered a glance into the brand's cutting-edge technology and latest application in the field of security. Ledman won two awards, the "Smart Security Excellent Solution" and "China Security Innovation Enterprise", for its technical strength and innovation ability in the field of security.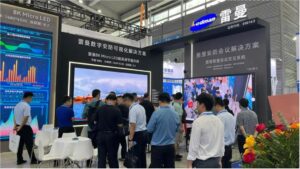 Ledman digital security visualization solution
Enabling "clairvoyant" remote monitoring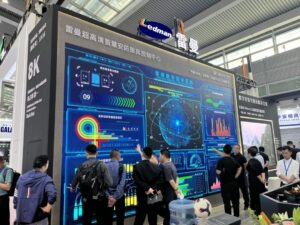 To root out pain points and difficulties troubling traditional security such as blurred picture of monitoring equipment, high delay, and distance limit, Ledman launched innovative digital security visualization solution. With the COB UHD energy-saving cold screen as the observation and control center to enable visual three-dimensional command and dispatch of "one picture and multiple scenes" and dynamic and static video surveillance, the solution is applicable to security video surveillance command center, smart city command center, enterprise visual management center and other scenes, bringing "full, seamless coverage" to public security in prevention and control.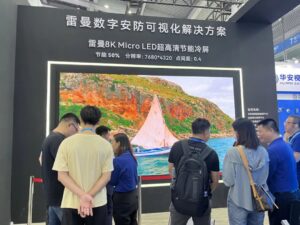 The COB UHD energy-saving cold screen, while boasting a "bright, cold, clear, black" aesthetics, good ink consistency and low power consumption, is capable of true reproduction of natural color, thus ensuring the meticulous restoration of the picture and "clairvoyant" remote monitoring. In addition, the solution, backed by excellent performance with high refresh rate and ultra-low latency, greatly improves the response speed, allowing security incidents to be detected in a timely manner.
138-inch Interactive Conference AIO
Helping security enterprises with digital transformation and upgrading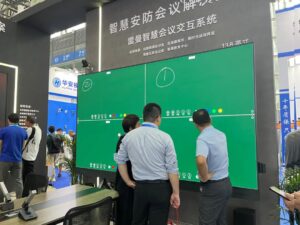 Powered by Ledman self-developed hardware and software and integrating a number of practical functions, the system delivers an efficient and intelligent interactive meeting experience. Ideal for remote video conference room, emergency command post, temporary combat command room, intelligent interconnection conference room and other scenarios, the system brings to enterprises improved efficiency, reduced costs and elevated service quality, providing innovative solutions for the digital transformation of security enterprises.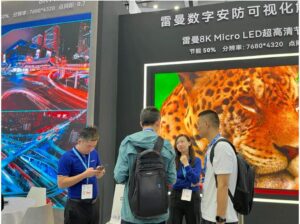 The system supports multi-touch, unbounded scaling, whiteboard writing, split screen writing, and wireless screen projection, and meets the display requirements of different scenarios such as remote collaboration, real-time interaction, and presentation. Additionally, its high reliability and stability ensure the security of conference data.
A veteran in security domain
A winner of two awards