Recently, a well-known company in the Saudi Arabian furniture industry experienced how a 138-inch Ledman Intelligent Conference All-in-one (AIO) created a new business meeting experience and significantly improved meeting efficiency.
"When coming across Ledman Intelligent Conference All-in-one at an exhibition, we were deeply impressed by the product's humanized interactive function. It was a great experience!" According to users of the company, they are pleasantly surprised by the fluent split-screen writing and the convenient touch of zoom-screen for display and interaction.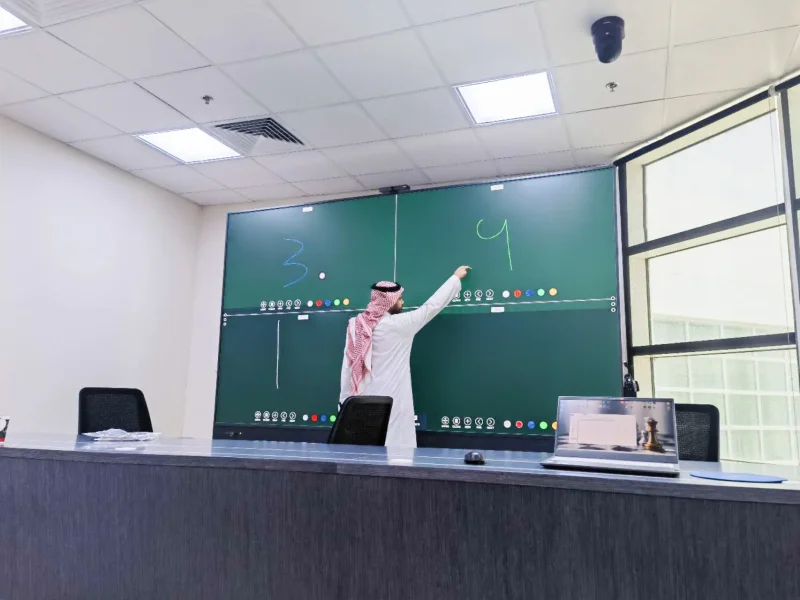 The AIO, blessed with several of Ledman's own patented key core technologies and integrating functions such as writing whiteboard, wireless screen projection, file management and video conferencing, provides a comprehensive meeting solution for a well-known Saudi company, delivering a fully immersive, highly interactive and real-time meeting experience.
Based on Ledman's proprietary advanced COB technology, the AIO features high color reproduction, high protection, high reliability, wide color gamut and wide viewing angle. It supports free switching between Android and Windows, providing customers with a stable and reliable experience.
Industry-pioneering patented algorithm for screen scaling control enables gestures to reduce the screen to a local area for display and interaction. After the operation is complete, the full screen can be easily restored using gestures. In addition to high-precision positioning, ten-point touch control, it allows for a variety of gesture operations for display and interaction, enabling free scaling, unbounded writing and other interactive functions.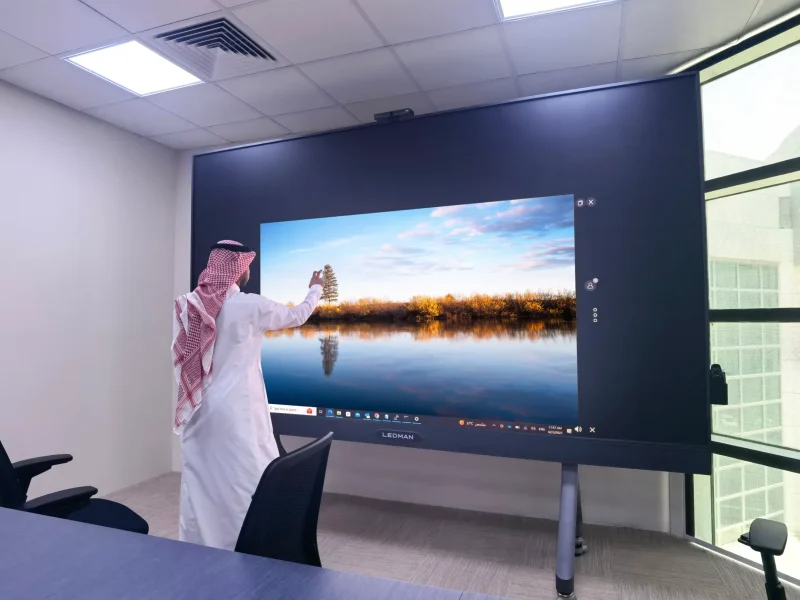 HD resolution and large screen size allow attendees to clearly display and share content, improving the accuracy of information transmission. Wireless screen projection and file management allow attendees to easily share and access documents and materials, enhancing meeting efficiency and fluency.
In order to deliver a more comfortable service experience, Ledman has conducted in-depth demand analysis. While meeting users' daily needs for furniture design and program discussion, multi-point touch control and whiteboard features allow attendees to annotate and write directly on the screen, enhancing the interaction and creativity of the meeting.
The AIO features a simple but clear interface and smooth operation, allowing participants to focus on meeting discussions and decision-making, and greatly reducing the disruption to the meeting caused by technical issues. Furthermore, to ensure a comfortable and convenient user experience, Ledman provides detailed training and technical support to familiarize users with the functions and operation of the equipment. Ledman's professional services and support have won praise and recognition from Saudi clients.
The AIO, with its super product configuration, rich personalized functions and humanized interaction experience, helps a well-known Saudi company improve meeting efficiency and experience, boosting its digital transformation and upgrading, and making meetings smarter.