What is an Indoor Led Display Screen?
An indoor LED display screen is a flat panel display that uses an array of light-emitting diodes as pixels for a video display in indoor applications. Their brightness, high-definition resolution, and ultimate display effect allow them to be used indoors. LED displays can provide higher contrast ratios than a projector and are thus an alternative to traditional projection screens.
The Features of an Indoor LED display screen.
Indoor LED display screens are built-in using Surface-Mounted device (SMD) technology. The SMD trend makes the displays have more viewing angles and a nearer viewing capability.
A quality indoor LEDdisplay screen has High contrast, wide color gamut and a vivid color mixture effect to enhance promotional content and is eye-catching.
A high resolution which includes the ability to play text, video, images, and files in a variety of formats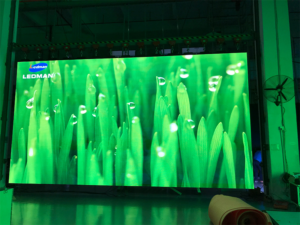 Uses of an indoor led display screen.
Indoor LED displays to serve two primary purposes. These are, 
Advertising:
Most businesses have a high demand for advertising to attract a large number of customers and educate customers about their brands and every upcoming product. Advertising has always served as the best way for a business to build a brand in customers' minds. Indoor LED display screen serves as the best tool for adverts and promotion plans by playing promotions and publicizing advertisements, deepening your enterprise into customers' minds.
Conference or stage display.
The indoor LED display screen is mainly used to replace the traditional projector and LCD for meetings and stages. The ability to achieve this function depends on the ability of indoor LED displays to assemble a variety of sizes, adjustable brightness, High refresh and full colors. This has rendered it the best digital display equipment for conference rooms and stages.
Why you should purchase an indoor LED display screen
An indoor LED display has High resolution that can provide clear pixels for playing high-definition videos and pictures- an essential feature for attracting customers' attentionOne can customize the size and shape ofthe indoor LED display screencan be to fit your specific needs.
Indoor LED display screens have various indoor application scenarios, although they are not waterproof. Storefronts and windows retail, offices, restaurants are viable application options.
Where can one buy the best indoor LED display screen?
Ledman Optoelectronic Co., Ltd. It is China's first listed high-tech LED company providing high-tech and quality indoor LED display products and solutions. Some of our quality indoor LED display screen products include
an E-Series with Diecast aluminum structure ensures good splicing effect; Convenient Installation and Maintenance; Splicing of any Size (Multiple of 250mm).It can be used in all kinds of indoor scenes.
S-Seriesindoor LED display screenwith the Visual Angle Range, the Transparency is Large. Because PCB is Only1.6mm ; Beautiful Appearance; High Brightness, Excellent Display Effect; Light Weight, Easy for Installation and Maintenance(<11Kg/㎡).
Conclusion
Nowadays, Ledman is the best partner in the global indoor LED display screen industry chain, based on its high-tech LED products, client satisfaction, and modern R&D team. Visit our product page for free quotations.